If you've never experienced a power outage at home, consider yourself lucky. Keep in mind that it's only a matter of time before you lose power for an extended period, so why not prepare yourself?
As someone who uses generators frequently, I strongly recommend that every homeowner has a whole house generator. In my review, I'll explain the benefits of generators and discuss the best whole house generators available right now.
What is a Whole House Generator?
A whole house generator, which is often known as a standby generator, restores power to your home whenever you experience a blackout. Whole house generators are typically installed right outside of your home, much like your HVAC system.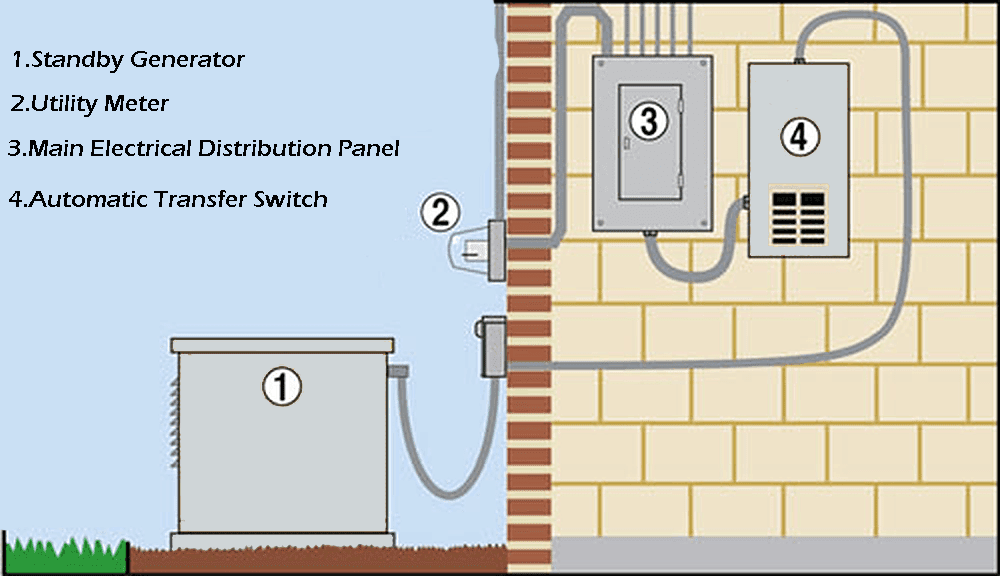 Depending on the whole house generator you choose, you can customize which appliances or electronics you want to keep powered up during an outage. If you have natural gas or propane lines to your home, you connect the generator to the lines to ensure your whole house receives power.
Today's Homeowner host, Danny Lipford, does an excellent job explaining how a whole house generator works in this video.
How Much Power is in a Whole House Generator?
Curious about the size of a whole house generator? Since you install these types of generators outside of your home, it's easy to mistake one for a component of your HVAC system. In short, standby generators are big and are not meant to be portable.
Once it's hooked up to your house, you don't need to do anything else. If you're looking for something more portable, you'll want to shop around for a different kind of generator.
A whole house generator is sized by kilowatts (kW). As you may already know, a kilowatt is a unit of power, and each kW is the same as 1,000 watts. If you're trying to decide if you need a whole house here are some examples of how much wattage you need in your house:
Well or sump pump: 1000 W
Central air: 10,000 W
Washer and dryer (combined): 8,000 W
Refrigerator: 1,200 W
Garage door opener: 875 W
Space heater: up to 5,000 W
Ten lighting circuits: 1,000 W
Laptop: 50 W
Keep in mind that the wattage listed above are estimates and every appliance may differ slightly. There are plenty of other appliances and features to consider in your home, but I chose some of the "essentials" that you might need if the power goes out for an extended period.
Installing a Whole House Generator
If you're like me, you might like to do as many DIY home projects as you can. Whole house generators have a lot of advantages, but unless you have a lot of electrical experience, I strongly advise against installing one on your own.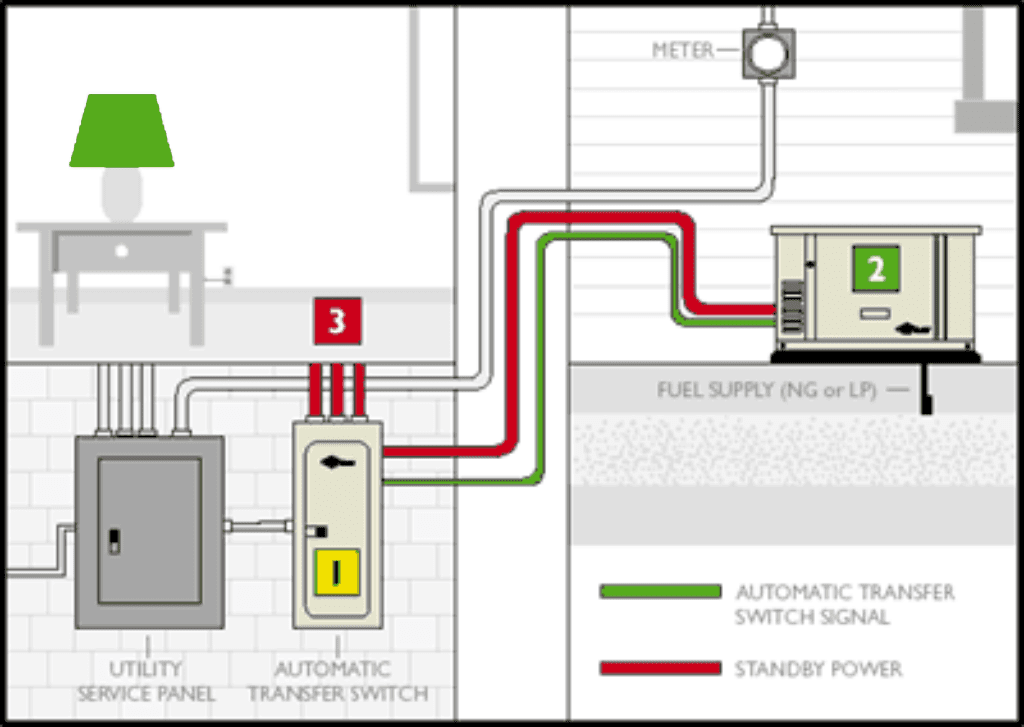 Not only does a whole house generator hook up to your propane or gas source, but it also needs to connect to an automatic transfer switch (ATS). The ATS knows when the power is out and will kick on without any help from you. An ATS is an essential part of a whole house generator and can keep your house running while you're away.
The generator also connects to a breaker panel, so there are a few more steps needed than just hooking up a generator.
Although hiring a professional to install a whole house generator is an extra cost, you can feel confident that your generator works properly. If there are any issues, the installer will stand behind their work.
Do You Need a Whole House Generator?
Your whole house generator will help you live comfortably during a power outage, but how essential is it that you buy a standby generator?
The final decision is up to, and there are several factors to consider before you decide if a whole house generator is for you. Nearly everyone wants to have access to amenities when there's no power, but cost and installation are the two factors that keep people from installing a whole house generator.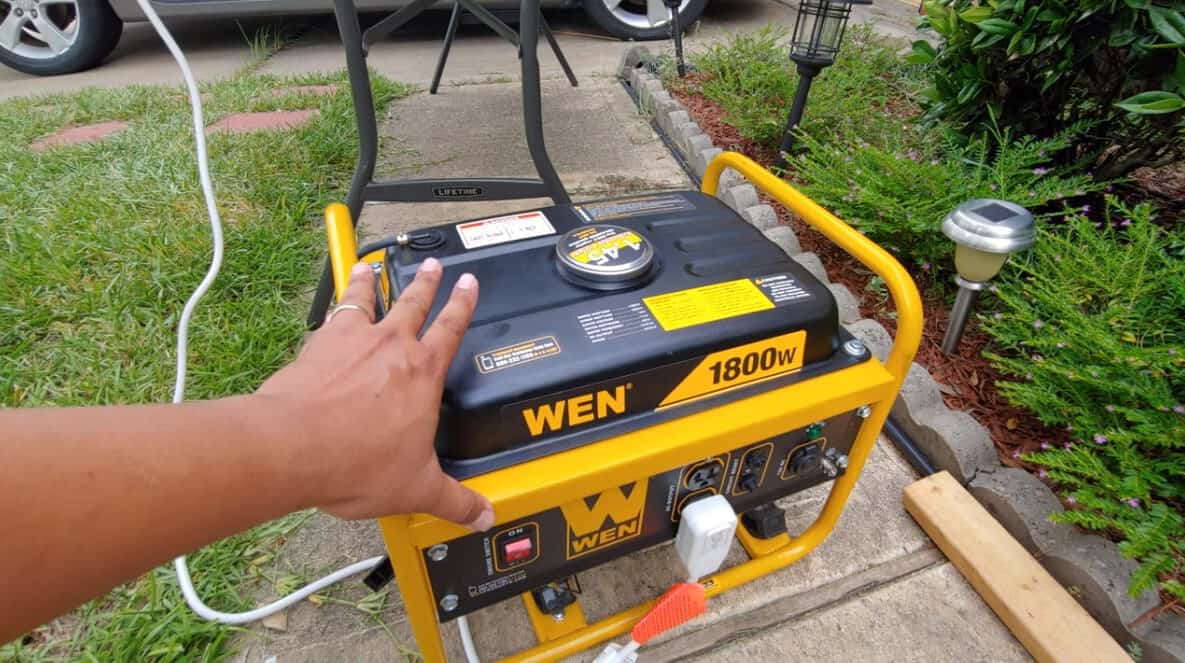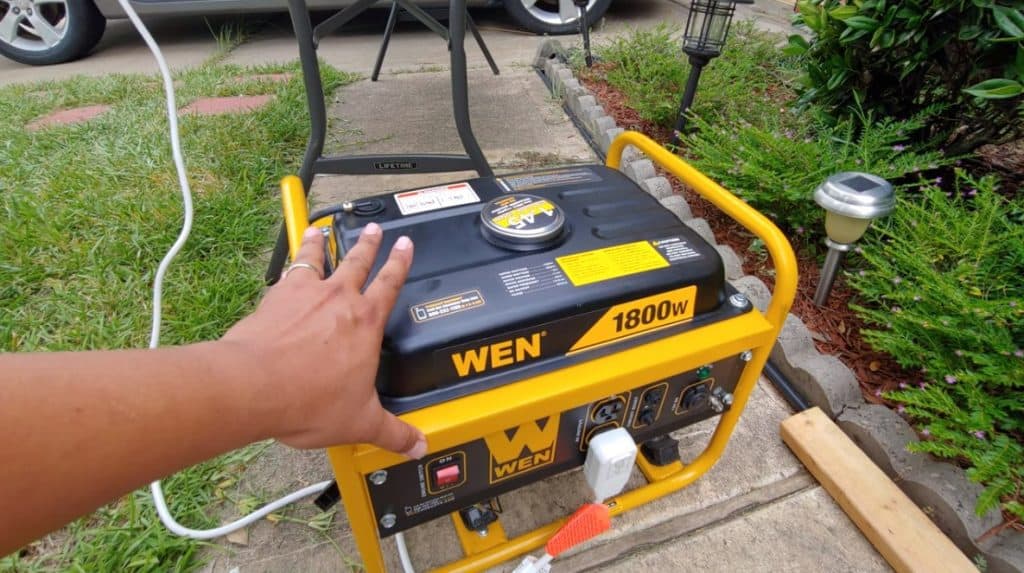 Recreational and portable generators are always nice to have on hand. I use my recreational generator weekly, whether I'm working on a DIY project or using my RV.
These types of generators are excellent for keeping things running on a smaller scale. They can power a light, charge your phone, and even run a space heater, but they have limitations and aren't ideal for extended periods.
Whole house generators are a worthy investment and can make a significant difference whether you lose power in the dead of winter or on a sweltering summer day. Not only can a whole house generator help you stay more comfortable, but you are likely to stay safer as well.
Now that you know more about whole house generators check out my top recommendations and my pick for the best whole house generator of the year.
---
Best Whole House Generator Review
The Generac 7032 Air-Cooled Standby Generator has a 16 circuit transfer switch and is an ideal option for household appliances and other electronics like computers. Not only will the Generac 7032 automatically turn on during an outage, but you can monitor the generator's performance while you're away.
The 7032 is 10,000 watts with natural gas. 48 x 25 x 29 inches, weighs 448 pounds and has 120 volts.
The Evolution Controller is an easy to use LCD display that shows essential information like battery status and maintenance intervals. The display will also alert you if the generator requires maintenance. Please note that the Generac 7032 battery is sold separately.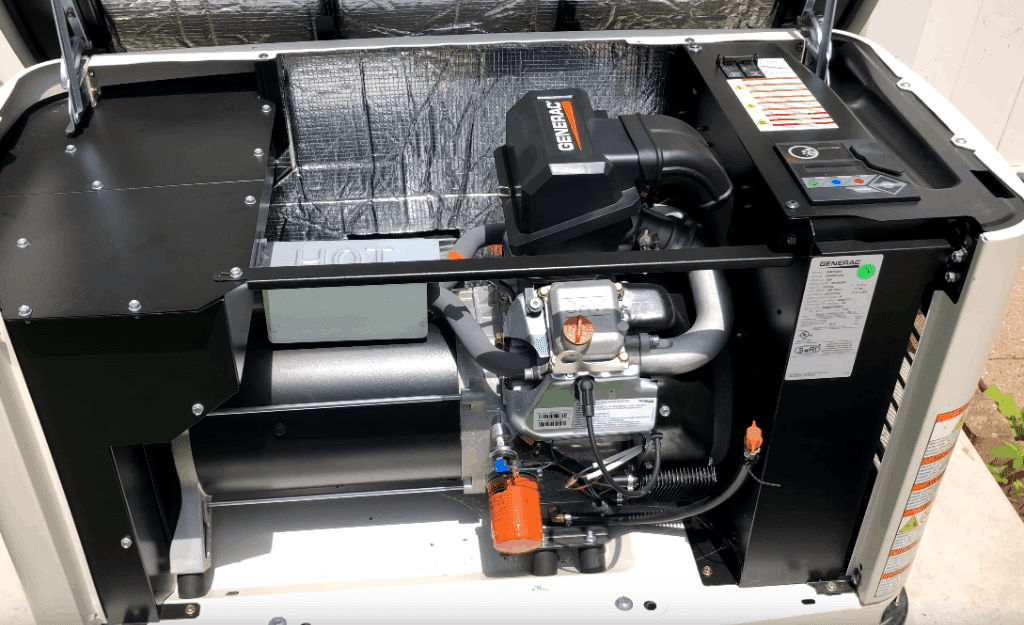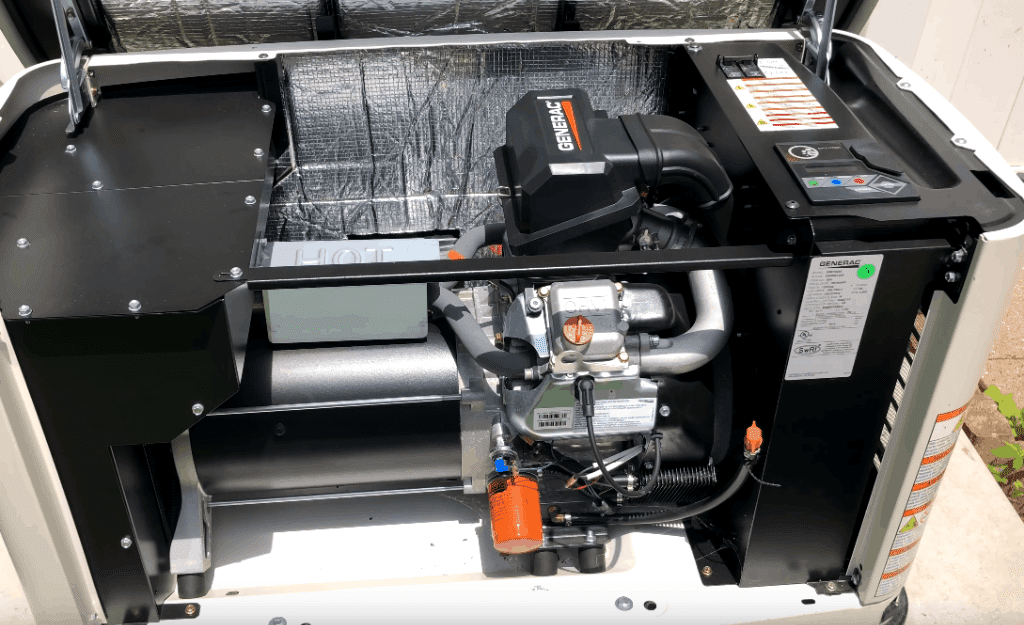 The Generac 7032 runs quieter and more efficiently than competitors, so you don't have to worry about the hassle of a loud generator. The generator is protected by an aluminum enclosure, which is powder-coated for corrosion-resistance and to withstand the elements.
Pros:
Mobile monitoring capabilities
24/7 customer support
Durable construction
Provides sufficient and consistent quiet power for extended outages
Five-year warranty
Cons:
Mobile setup is challenging for users with limited tech-skills
Some features are sold separately
Nearly identical to the Generac 7032, the Generac 70432 Standby Generator has more wattage with 22,000-watt for LO and 19,500-watt for Natural gas. It has a 16 circuit transfer switch and a 200 Amp NEMA3 transfer switch. With the extra wattage, this generator is an excellent option for larger homes with more power needs or if you experience outages whenever the weather turns bad, such as thunderstorms or blizzards.
The 70432 has mobile capabilities to make it easier to monitor your generator while you're away and the LCD display will tell you when the generator requires maintenance. The Generac 70432 also has overload protection and shuts down when oil is low.
Like the 7032, the 70432 is 48 x 25 x 29 inches, but this model is a little heftier at over 500 pounds and with 240 volts. The generator is protected by an aluminum, powder-coated cover and is designed to withstand all kinds of weather.
Pros:
Wi-Fi monitoring
24/7 and 365 days a year customer support
Weatherproof construction
Ample wattage for extended outages
Five-year warranty
Cons:
Mobile monitoring may not always work
Some users experience coil burnout or other technical issues, so professional installation is strongly advised
If you're looking for a whole house generator that has a little more wattage during an extended outage, the Champion 100294 might be your perfect option.
The Champion Power Equipment generator weighs nearly 500 pounds and is 50 x 30.1 x 40.2 inches with 240 volts. When hooked up to propane, the generator provides 14,000 watts of continuous power and 12,500 watts is using natural gas.
There's no need to worry about refueling or testing out the generator before each use. The generator performs self-diagnostic tests every week, so it's ready to go whenever you have an outage.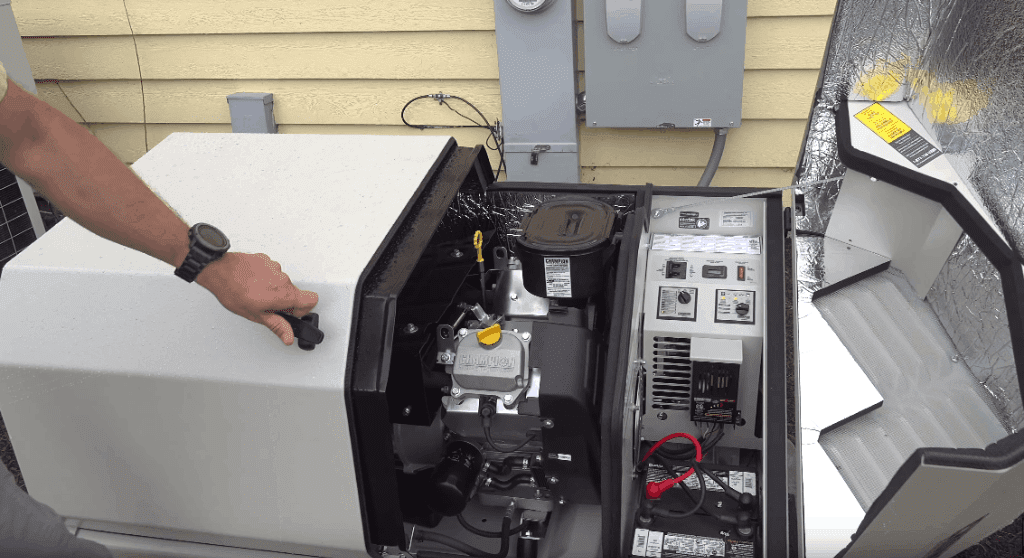 The aluminum powder coating encasement keeps your generator protected during all types of weather, but is easy to access from the top. The generator will automatically "kick on" as soon as an outage is detected, whether it's 22 degrees below zero or over 100 degrees.
Pros:
Sound-dampening and low-tone muffler feature for quiet operation
Durable construction and space-saving design with easy-to-access points
More wattage than other whole house generators
Minimal maintenance due to self-diagnostic tests
Ten year limited warranty and lifetime technical support
Cons:
May be difficult to monitor or troubleshoot without expert help
No mobile setup or app for monitoring
Some whole house generators simply don't provide enough power for larger homes. The Briggs & Stratton 76107 Standby Generator provides enough continuous power to a 19,000 square foot home with a 5-ton air conditioner. Even if the square footage of your home is nowhere near the generator's capacity, isn't it comforting to know that it can power everything you need?
The liquid-cooled, gas-powered generator has a steel enclosure with a powder-coat paint finish. The enclosure, with a stream-line design, won't take up too much space and fits close to your house.
The durable covering can withstand all types of weather and will protect your generator for years. The enclosure measures 119.8 x 35.9 x 43.7 inches. The generator has automatic voltage regulation, low oil shutdown, and overload protection to ensure that your generator keeps running efficiently and problem-free.
Pros:
Provides continuous power to large homes with central air
Space-saving design
Minimal maintenance needed
5-year limited warranty
Quiet operation
Cons:
Might provide more than what you need in your home
No mobile monitoring available
---
Conclusion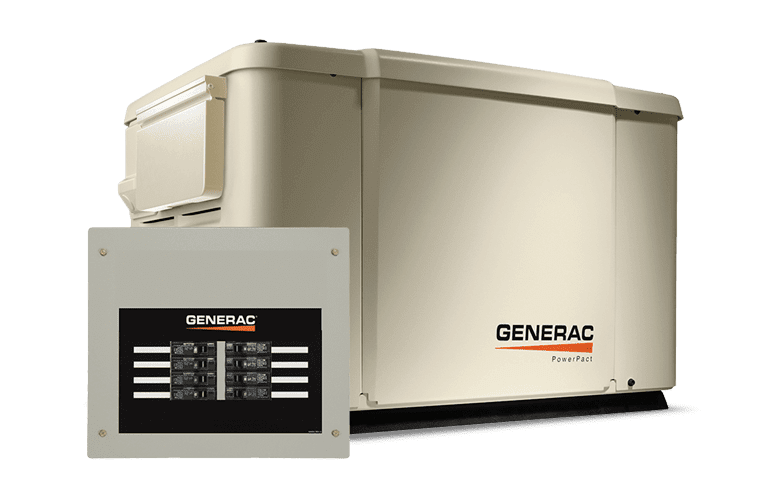 I travel a lot in my RV and tinker around with a lot of DIY projects that both require the use of a generator. Even though I use a recreational and portable generator frequently, I love knowing that I have consistent power in my home during bad weather or when the utilities go out.
A whole house generator means that I don't have to worry about food spoiling in my fridge or getting dangerously overheated on a hot summer day. I love the Briggs & Stratton Whole House Generator, mostly because it offers a lot of wattage for huge homes. Although it's an excellent and well-made generator, it's not for everyone.
My top pick for the best whole house generator is the Generac 7032 generator. Not only does it provide adequate power to a regular-sized home, but it requires very little maintenance or knowledge about whole house generators. Being able to monitor your whole house generator from your mobile device makes you feel more in control, even when you're not at home during an outage.