When the power goes out and it's raining or even snowing outside, that's when you'd wish you could pick a remote control, press a button and presto! Your generator is on.

People look for the best remote start generator not just out of convenience; sometimes it's about necessity too. Especially when you're out camping or traveling in your RV and your portable generator is your only source of power.

But not all generators are created equal. So which one do you buy?

This article reviews the top-rated remote start generators and helps you decide on the right one for your needs.
Benefits of Remote Start Generators
Status Indicators
When you have your generator in the backyard, it can sometimes be difficult to monitor it. A remote start generator, on the other hand, has a monitoring device that alerts you with both sound and light indicators to any issues in the generator.

The status indicator monitor, which operates wirelessly, warns you in advance if there's a problem. This gives you time to address the issue before the generator shuts down.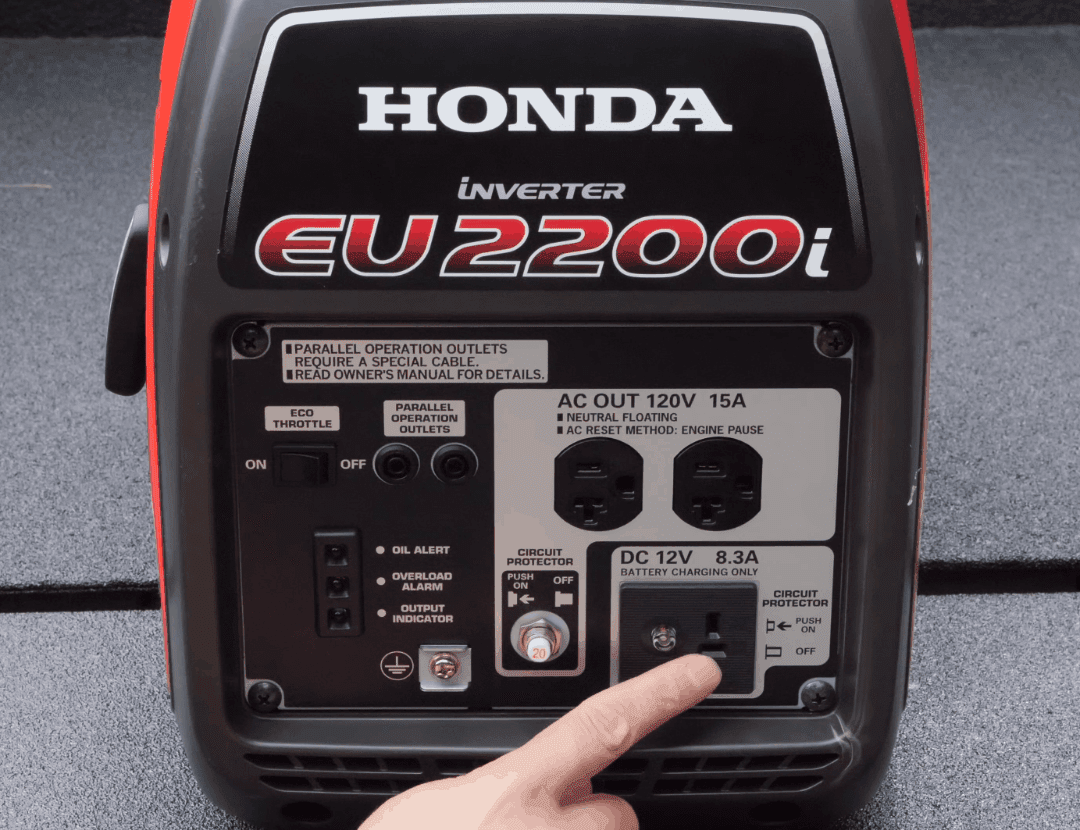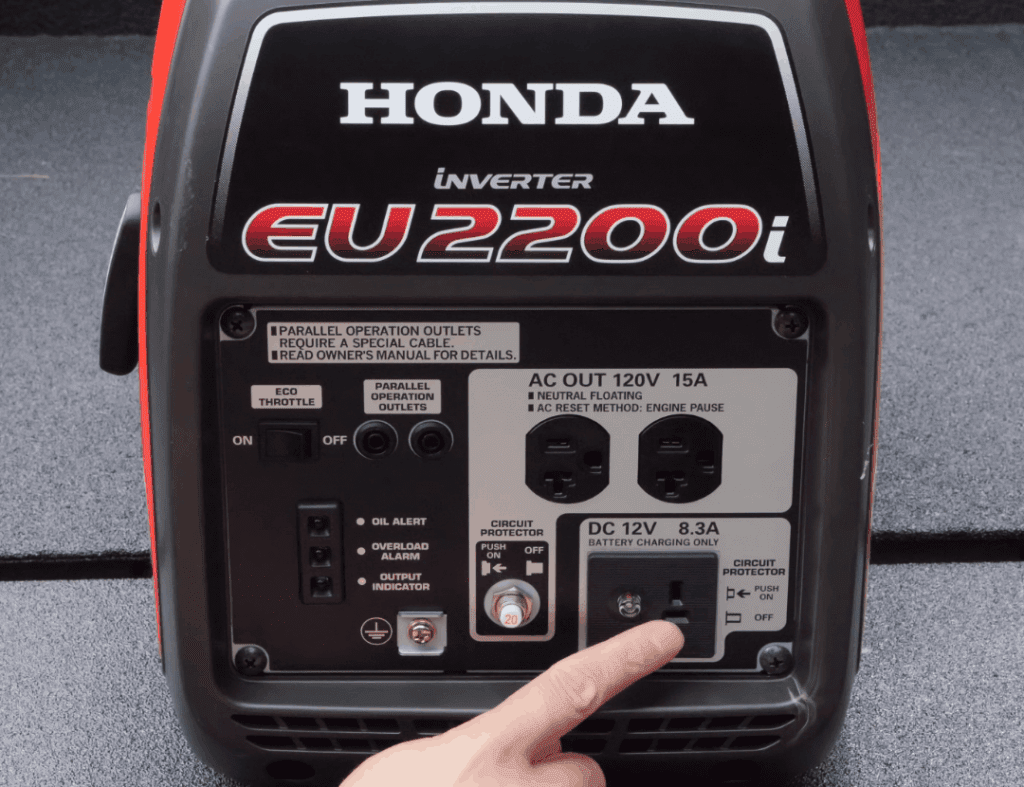 Easy to Mount
Another advantage of having a remote start generator is how easy it is to mount the monitor on your wall, install it on a desk or even hang it on the fridge with a magnet. Knowing where your generator monitor is at all times, especially during a power outage, can save you precious time and a lot of hassle.

This reminds me of the time I was home down with a cold when the power went out. It was also raining cats and dogs outside. I knew the generator's key fob was on the bedroom wall right beside the door. So all I had to do was crawl out of bed, grab the remote and start the generator. I was back under the warm covers within the span of one minute or less.

Did the remote save my life? Not literally, but that night it sure felt like it a lifesaver.
Simulated Control Panel
With the simulated control panel, you can run every test and checkup on your generator as if you were standing next to it. You can test the engine, monitor the readiness status, and even change the date and time.

It also lets you check for any errors in the system and fix them from the comfort of your couch. If something goes wrong or a scheduled exercise doesn't complete successfully, you will know all about it from the generator history. Then you can take steps to solve the minor glitch before it turns into a serious problem.
Types of Remote Start Generators
Conventional
Conventional generators produce an alternate current (AC) and pump it straight into the generator outlets. Without any form of filtering, your sensitive home appliances are not protected against a power surge.

This is why it's not recommended to plug your computer or smartphone into the outlet of a conventional generator. There's a risk they would get fried.

Besides, a conventional generator makes more noise while running. It's also both bulky and heavy compared to the inverter generators. Overall, these types of generators are difficult to transport.
Inverter
Even though inverter generators output AC just like conventional generators, they refine this output in a way that makes it safer for you and your devices. First, the inverter generator produces AC then converts it into direct current (DC) before turning it back into AC again.

As a result, you get a steady current of smooth and clean electricity. Without disruptions or spikes, you can charge your tablet and phone safely. And since they are quiet, compact and have a fully enclosed engine, many people prefer them over conventional generators.

The only drawback is inverter generators is their high price tag. Even repairing them costs more. This is due to the high-tech components of these types of generators.
Key Features
Fuel Economy and Run-Time
One of the first things to look for in a generator is its fuel efficiency. A generator that adjusts its fuel consumption according to the applied load, will save you money in the long run.

The generator's run-time is another key factor. It's usually indicated at either 25 percent or 50 percent of the load. This tells you how long the generator will run on a full tank at the set percentage of its maximum capacity.
Low Operation Noise
A loud generator can be a headache, literally. Not just for you but the neighbors as well. When choosing a generator, make sure the noise level doesn't exceed 60 decibels. You can still hold a conversation comfortably at this level.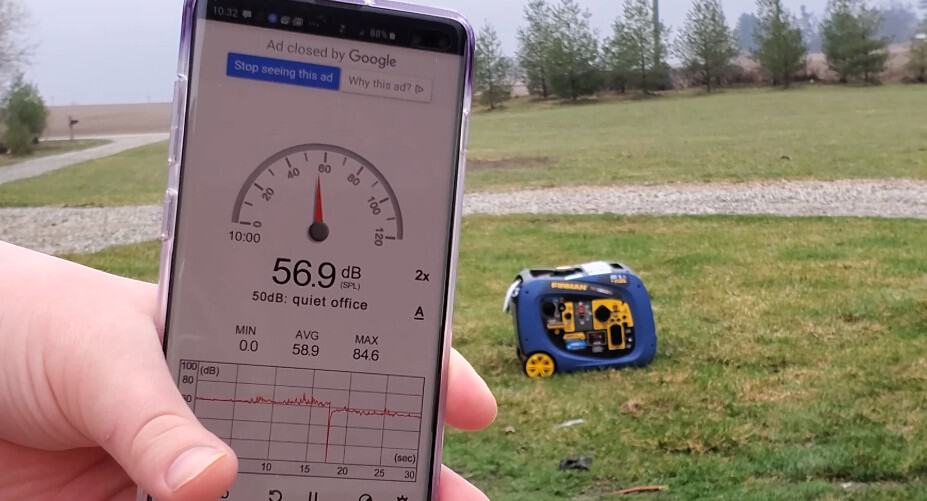 To put things in perspective, a fridge's engine produces around 50 decibels, while a vacuum cleaner roars at 70 decibels as it sucks dust. So look for a generator that is somewhere between these two noise levels.
Safety
Since we're dealing with fuel and electricity, then safety should be a top priority as far as generators are concerned. A good generator should have two safety mechanisms in place, low-oil shutoff and overload protection.

With overload protection, the engine will automatically shut down if you exceed its power capacity. This prevents power surges or damage to the engine. With low-oil shutoff, the generator detects the level of the oil and powers the engine down if it goes below a safe level.
Number of Outlets
As a key feature in your remote start generator, the number and type of outlets affect how well you use that electricity. Most generators have two outlets each is 120-volts. However, you might need a 240-volt outlet if you operate heavy-duty machinery. So look for a generator that has an outlet with a twist-lock that can switch between 120-volt and 240-volt electricity.

And since we're talking about remote monitoring, the generator should have a 12-volt DC outlet. You can use it to charge the onboard battery which is necessary for the remote start functionality. Also, you'll need a 30-amp outlet if you plan to use the generator to power your RV.
Other Considerations Before You Buy
When is the Best Time to Buy?
It's always better to be prepared. So if you anticipate a storm coming that might knock off the power grid, it's wise to buy your remote start generator before it hits. By the time the power is out, you might not find a single generator left in your local store.
How Much Power is Needed?
You'll need to consider your home needs before you decide on the best generator to buy. On average, you'll need about 5,000 watts of electricity to keep all the basic appliances running at home.

For campers, a generator that outputs 2,000 watts would nicely power your light bulbs and coffee maker, and charge your laptop and your phone. But if you're going to use the generator on your RV, then consider buying a generator with a 3,500-watt rating or more.
Where to Place it
Before you buy a generator for your home, make sure you have a place for it that is at least 20 feet away from the nearest window. That's enough space to keep carbon monoxide from seeping into the house.

While ventilation for the generator is important, you should also make sure it's not exposed to the elements. Rain and thunderbolts are the banes of generators. You can either keep it in a shed or cover it with a tarp.
Environment-Friendly Emissions
If you're concerned about exhaust, then you should steer clear from generators that run on gasoline and diesel. Solar generators, followed by propane-powered ones, are the cleanest when it comes to emissions. Check that the generator is a CARB, EPA, or CSA compliant before you buy it.
Best Remote Start Generator Reviews 2019
For a conventional generator, the Champion Power Equipment 46539 is powerful enough to run two RV air conditioners simultaneously. Besides its remote start feature, it's also equipped with a cold-weather start and a 30-amp outlet for the RV.

On a full tank, the gasoline-fueled generator will run for 12 hours at 50 percent load. Its starting power is 4,000 watts and running wattage is 3,500. It comes mounted on wheels for easy handling and has a sturdy steel frame for protection.

As an affordable generator with a low price tag, it's a good choice for someone on a budget. However, both its bulkiness and weight coupled with the high noise output can put many people off. At a 25 percent load, the generator produces 68 decibels, which is almost as noisy as a vacuum cleaner.
Pros
Low price tag.
Volt guard for protection against a power surge.
12 hour run-time at 50 percent load.
CARB compliant.
IntelliGauge indicates volts, hours, and hertz in use.
Cons
Noisy and bulky.
Doesn't have a 240-volt outlet.
No 12-volt outlet either.
Doesn't have a gas drain and can be difficult to change the oil.
The Westinghouse WGen7500 is packed with so many features and power, it is
Ideal for a home with too many appliances or a large RV. This power manifests itself as a 9,500-watt rating and 7,500 watts in running power.

The WGen7500 is a gas-fueled conventional generator that is easy to install, start, and maintain. The built-in fuel gauge makes it easy for you to check the gas level. Moreover, it has overload protected outlets and low-oil shutoff safety features. And for the power-hungry homes, the twist-lock outlet is just what your heavy-duty tools need.

Besides the 73-decibels output, the only other drawback of this generator is the absence of a 12-volt outlet for the onboard battery. Apart from that, it has a decent run-time cycle that gives you 11 hours at a 50 percent load or 16 hours at 25 percent on a single fill of its 6.6 gallons tank.
Pros
Easy to start, run, and maintain.
Heavy-duty engine.
Good run-time.
Backup recoil start.
Main breaker.
CARB, CSA, and EPA compliant.
Cons
Lacks a 12-volt outlet.
Over 200-pounds heavy.
Noisy and large.
As the first inverter generator on this list, the Pulsar PG400Isr has power and affordability under its belt. The compact generator with a 4000-watt rating has a running wattage of 3,500. With only a 3.4 gallon tank, it has an impressive 16 hour run-time at 50 percent load. This can come in handy during a long power outage.

Noise-wise, its 63 decibels blend in the background making it a quieter option than the Champion and Westinghouse brands. The generator is also equipped with a USB port for charging your phone and laptop as well as a 12-volt DC outlet for the onboard battery.

On the downside, and despite its quiet operation, the generator tends to make a whining noise when running at maximum capacity. Another drawback is the wheels that get stuck on rough surfaces making this compact, 82-pound generator hard to move.
Pros
Affordable price.
Inverter generator.
Multiple different outlets.
Low noise output.
Has remote, electric, and recoil start types.
Cons
Whining noise when running at full capacity.
Wheels are hard to maneuver on rough surfaces.
For a newcomer, the Arksen inverter generator has a lot to prove. And it doesn't waste time showing you what it can do. For starters, it's a fuel-efficient, compact, light-weight, and fully enclosed generator that has a really quiet noise output for this type of generators.

Rated at 2,800 peak watts, the Arksen has 2,300 running watts. This is only good for the basic power needs of an RV or for camping. Most homes would require a more powerful generator than this one. That said, it has an array of versatile outlets and can be used by the avid DIYer to power precision instruments.

With only 59-decibel noise output, it's only a few decibels above a running refrigerator. And for a small fuel tank that only takes 1.9 gallons, the generator gives you 6 hours of runtime at a 50 percent load or 9 hours at a 25 percent load. It is both EPA and CARB compliant.

The Arksen generator still hasn't found its feet yet. Despite good features such as the Eco-Mode which maximizes fuel economy, it needs to fix its electric issues for it to compete with the big brands in the market. Some people complained about the remote and the electric start not working.
Pros
Lightweight and compact.
Good run-time.
EPA and CARB compliant.
Extra quiet.
Cons
Has electric problems with the remote and electric start.
Not suitable for homes or large RVs.
What the Champion Power Equipment 75537i lacks in power, it makes up for in ease of use, convenience, and clean power. And if noise is your main concern with generators, this model delivers only 58 decibels when running which is as quiet as generators get.

With 3,100 starting watts and 2,800 running watts, it's powerful enough to keep a small air conditioner running along with some basic appliances. For convenience, this portable inverter generator comes with foldable handles and a set of wheels for easy transport.

Its main drawback is its 1.8-gallon tank. Still, the Champion 75537i manages to pull off 8 hours of run-time at a 25 percent load. This, coupled with four outlets that range from 120 volts AC to 12 volts DC as well as a 30-amp outlet for the RV, makes it a good choice for campers and RV enthusiasts alike.
Pros
Ultra-quiet operation.
Convenient and light-weight.
Decent run-time despite the small tank.
CARB compliant.
Cons
Doesn't remote start in cold weather below 50 degrees Fahrenheit.
Sometimes it trips when running the air conditioner along with other appliances.
The Final Word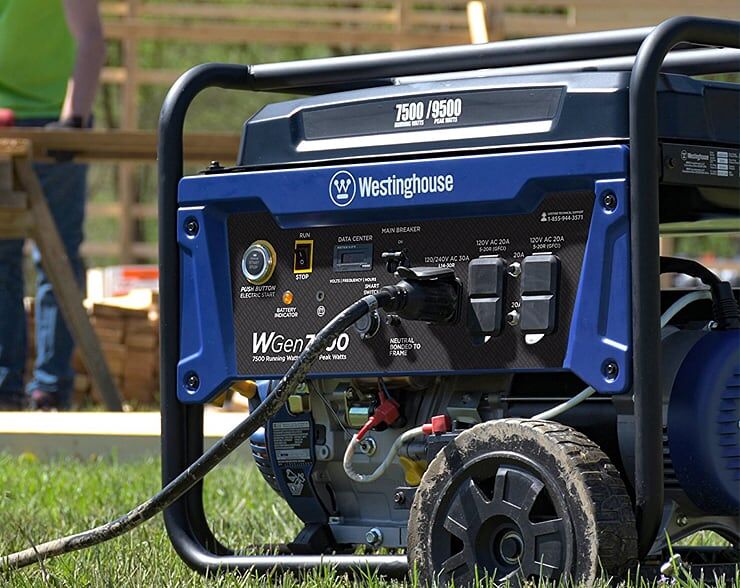 For our top pick of the best remote start generator, our winner is the Westinghouse WGen7500 portable generator. That's because this powerhouse gives you more than the average generator in terms of power, fuel-efficiency, run-time, and safety features.

Its starting wattage of 9,500 puts it on top of every other generator on this list. With 7,500 running watts it covers all your electricity needs including any power-hungry appliances and heavy-duty tools you need to use during a power outage.

Thanks to a large tank with a 6.6-gallon capacity, the Westinghouse WGen7500 runs for 16 hours on a 25 percent load or 11 hours on a 50 percent load. Combine that with the versatile outlets and the convenience of 3 different start types, remote, electric, and recoil, and you get why it's the clear winner of our roundup.

The Westinghouse WGen7500 also excels where safety is a concern. It offers both overload protection and oil automatic shut-off features. And if you're worried about emissions, the generator is compliant with EPA, CSA, and CARB regulations.

For all these reasons, the Westinghouse WGen7500 is the right choice for someone looking for a reliable and efficient remote start generator.